October 24, 2009
Autumn Spring
When I can hear traffic from the Interstate two miles away, I know autumn has returned.
Temperatures, you know. Colder air conducts sound better. I wonder if farmers wake up to the dull roar from a distant highway and know it's time to harvest.
At Rittenhouse Farms, it's jalapeño time.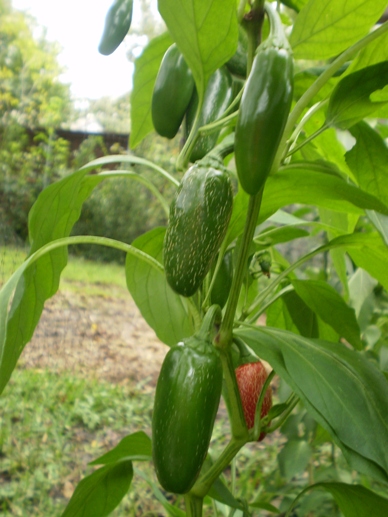 Our first garden produced a bumper crop of these. Also some miserable cherry peppers, which no one likes. The banana peppers came in strong, but the tomatoes only reached marble size before season's end. Now I know why people start tomatoes as plants, not seeds.
The basil, however, outgrew its progenitor.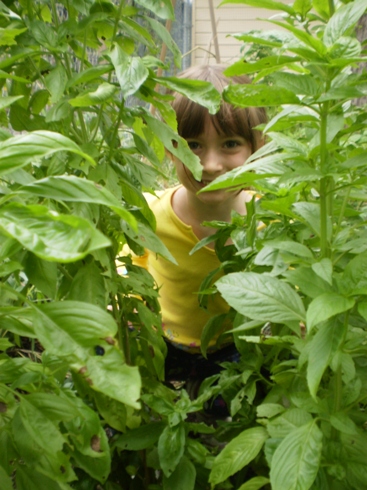 it's been an exceptionally fertile season at Rittenhouse: We had another baby. I haven't come up with a good pseudonym for her yet (see "Who Lives Here?" in the right margin). With the third of three, it's tempting to give her a diminutive like Bitty, but those have a way of sticking through adulthood and perhaps fostering a resentment that will send her into the arms of a dirtbag, or to welding school. Besides, she wasn't "bitty" at all: 7 lbs. 5 ozs., for those keeping score at home.
We hired a midwife this time, having seen enough interventions from what we believed were "granola" gynecologists. This lady has less med school than a doctor, but more instinct. I watched her closely during Squeeky's 75 minutes of heavy labor, and there was a moment where her demeanor changed completely. If she'd been at bat, she'd have planted her spikes in the dirt. Preparing for a heist, she'd have ground out her cigarette, lowered her hat brim, and muttered, "Let's go." She knew Squeeky's next push would be the last. And so it was.
As these things go, the birthing went uneventfully. Healthy baby, healthy mama, the latter having earned my eternal respect and admiration for bearing all three of our children without anesthetic. We hit a minor bump with the hospital staff, but later heard praise from them for declining all the standard practices that invade a newborn's bloodstream and separate him from his mother. Granola Republicans, I guess we are. Odd birds no matter who's looking at them.
So, Squeeky's mom is in town, and the Rittenhousehold is consuming toilet paper at a ferocious rate. I know that's a standup cliché, but sometimes life affirms standup. A house full of women goes through bathroom tissue exponentially faster than a house with the same number of men. I can hear the rolls spinning as I write.
Or it might have to do with the volume of food we're consuming. I get all weepy at the sight of a refrigerator stuffed with packages from friends, neighbors, and parishioners. If Facebook facilitated food gifts, I'd have to store them off-site.
naming our children has always been a schizophrenic undertaking, because we never try to find out the sex ahead of time.
It's also a breathtaking act, when you think about it. To name someone is to exert power over him; this was openly acknowledged by the ancient Hebrews, when Adam named every creature on earth as God presented them, putting them under his dominion. I've rarely felt so magnanimous as when the hospital staff hands me the clipboard and leaves the room: Today, I will name someone, for life.
Anticipating another daughter, we'd toyed with the botanical Jasmine. Ulitmately I demurred, because the second daughter is supposed to be the rebellious one. She can't ever quite get the same attention as Number 1, so she tries harder. I pictured "Jazz" in late adolescence, spending a little too much time with the boys, head cocked and smiling in her jeans, fingers twirling a lock of butterscoth hair.
For sons, some families have a tradition of using the wife's maiden name as his first name, then going by his middle name. That's how you get boys named Pendleton James McKay, whom everyone calls "Jim." Too complicated for us.
This one settled the matter by turning out concave rather than convex. We went with a name that Squeeky heard in a dream, and it happens to be that of a girl I adored in junior high, who was two years older and rode the same school bus. She brushed her hair at least twice on the way to and from, and it always shone like gold.
A little golden dream. Soon as I can spin that into a pseudonym, I'll name her for you.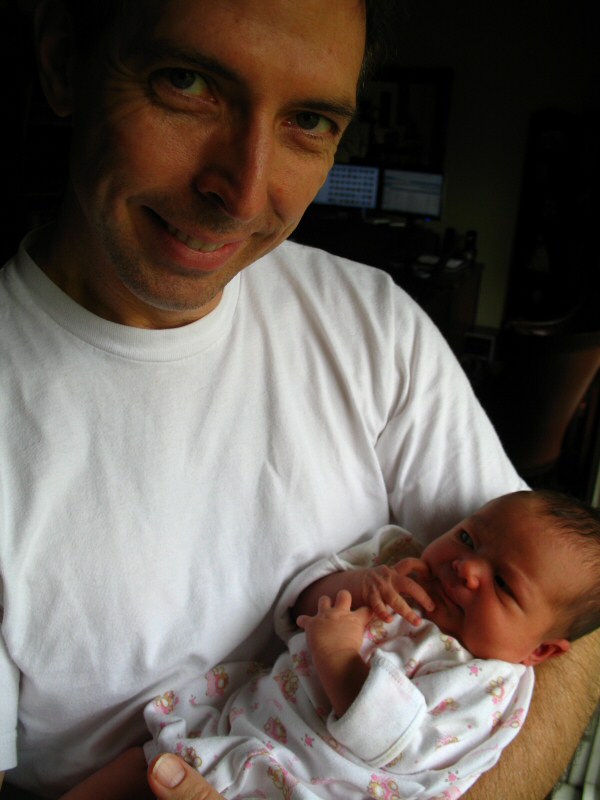 Posted by: Michael Rittenhouse at 08:32 PM | Comments (2) | Add Comment
Post contains 742 words, total size 5 kb.
1
Beautifully said. I can't wait to hear what the wee one is called.
Posted by: dawgmom at November 10, 2009 12:06 AM (fHGd+)
2
Nothing touches a grandmother's heart like a baby...anyone's baby. What a lovely little miracle.
Posted by: Sandra at March 14, 2012 05:34 PM (pLKee)
Comments are disabled. Post is locked.
8kb generated in CPU 0.0035, elapsed 0.0119 seconds.
23 queries taking 0.0092 seconds, 19 records returned.
Powered by Minx 1.1.6c-pink.