June 30, 2010
I'll Fly for Who?
Contrary to what you've heard, London is not foggy and the British do not serve warm beer.
They do, however, still use the metric system except for driving miles—just one of my learning opportunities from 28 hours on the ground between London Heathrow and Newmarket, Suffolk, England.
Why such a long flight for a short stay? Easy: a concert.
half a lifetime ago i was cheated out of hearing the world's finest pop band in person when their saxophonist broke his leg somewhere between Louisiana and Texas. Why he couldn't just honk it out from a wheelchair I don't know. But once Spandau Ballet packed up their gear and flew home, they would never return to the U.S.
Then they sort of broke up after 1991, that is, if "having it out in court" equals a breakup. They remained at odds for almost 20 years, when perhaps the realization that there is no pension plan for aging pop stars began to sink in. Last fall, they re-embraced for a tour.
The English
are
always six
hours ahead
of us
But they forgot to schedule a stop in Dallas, or for that matter anywhere in the Western Hemisphere. So to see them at least once before we are all in assisted living, I would have to go to England. Newmarket, Suffolk, specifically, at a concert following a horse race.
nine hours in a chair is too much for all but the most patient adults and dullest children, so I kissed the bright-and-beautiful Rittenhousen goodbye and boarded AA Flight 81 on a Thursday. I took my seat next to an off-duty flight attendant, who showed me the secret to obtaining free cabernet, which gave me sweet sleep for 15 minutes then catatonia for the next eight hours. I arrived at Heathrow feeling as if something had kept me awake in an uncomfortable position for a very long time, which is precisely what had just happened.
Then dawn came way too early. The English are on some sort of metric time, which is always six hours ahead of Central. Perhaps it's the 220V current that powers all their clocks. So on arrival I met bright daylight instead of the 3 a.m. gloom my body expected. I washed my face in an airport sink but wisely eschewed coffee. This was going to be a long Friday and I would need a nap at some point.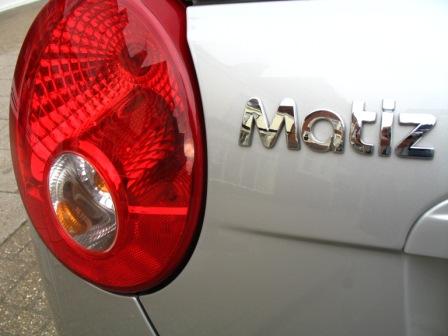 I headed for the Enterprise counter, where a bottom-dollar, booked-online rental car awaited me, and the staff—as I've come to expect—immediately went after the rest of my wallet. They taunted me with an upgrade to automatic transmission: I declined. They wagged about the inadequacies of credit-card collision-damage insurance: I shrugged. Only after placing an international call to my Visa issuer to satisfy themselves I had the coverage I claimed did they glare ruefully at the phone and relinquish the keys.
Whereupon I realized that while the British go to a great deal of trouble to transplant the steering wheel to the other side of every car they import, they leave the shifter right where it is. So I would not only have to drive on the other side of the road from the other side of the car, but learn to change gears with my left hand. Jetlagged. Beat. Maybe that upgrade to shiftless wasn't such a bad idea. At least the pedals were still in the right places.
I said my prayers and ramped onto the M25 around London. About five miles on I realized I had taken M25 the wrong direction. I figured London couldn't be that large so I continued, which seemed to make sense until an hour passed and I came upon a toll tunnel with nothing but American currency in my wallet. Not on the itinerary; not in their manual. Thank God for supervisors who can make magic happen for idiot tourists.
i am happy to report the british drive very fast on average, and those who don't still yield the inside lane. Freeway traffic flows like a river, the strong current pulling ahead while the backwater clings to the outside. We could learn from this.
And oh, yes, the roundabouts. They feel exactly like that Yes song. Unnerving at first but delightfully simple once you relax, stop thinking, and recite "Yield to the roundabout traffic and always signal."
Driving on the left actually proved to be just an intermittent challenge. Usually one can simply follow other traffic, so you're unlikely to get crosswise. My only foul-up occurred right where I expected, on a back street in Newmarket with no one to lead me.
It's the right turns that get you, unless you comply 100 percent with each of five steps:
Look right.
Look left.
Look right again.
Go completely past the lane your monkey-brain says to turn into.
Drive right into the lane your panic-brain screams at you to avoid at all costs.
I muffed Step 4 and drove about 50 yards in the wrong lane, much to the astonishment of some chap following me. I corrected my path abruptly and pretended nothing happened, and fortunately, nothing did.
the newmaket races date from 1216 a.d., when King Henward VI proclaimed this region as his horses' summer home, or something like that. See Wikipedia if you must know the facts; Rittenhouse is all about impressions.
Such as: Like everything else in England, Newmarket takes about 1/3 the space it needs to be comfortable. I mean, I drove through miles of wide-open country to enter a town crammed hip-to-gutter with HO-scale housing. It's as if the vassals working the place were legally entitled to only 50 square feet per capita. The titled folk got all they wanted.
At the western edge of Newmarket the July Racecourse stretches out like a long J across low, rolling hills with three grandstands built along the finish line. The most desirable grandstand is, of course, right at the end, and it's the most expensive to enter. Money alone won't get you in; you've got to dress "smart." I wore the same navy sportcoat as on the plane but with a fresh white shirt, after a thorough shower.
Newmarket ticket prices don't pinch because the betting windows make the margin. I don't gamble, not because I think God forbids it, but because it's a fool's errand. Fiscally speaking, I would rather hold shares in gaming companies than supply their revenue.
I felt
very much
at home. Which
is kind
of unfortunate
Still, as I passed one of the trackside betting kiosks I spotted horse No. 9, "Louisiana's Pride," and since I was born in Louisiana (and although they still haven't named anything after me), I placed a £5 bet.
Minutes later a mob of running horses thundered over the hill toward us. I looked up-course just in time to see one of them showing hooves where its ears ought to be, followed by a shower of divots. The crowd reacted, "Oh!" but the pack continued on. As they passed the grandstand I fished out my ticket to see which number my horse was. I looked up again just as my chosen No. 9 galloped past, sans jockey, who was still on the ground where he'd been dropped in all the commotion. Medics hoisted him into an ambulance and he was later reported to be all right.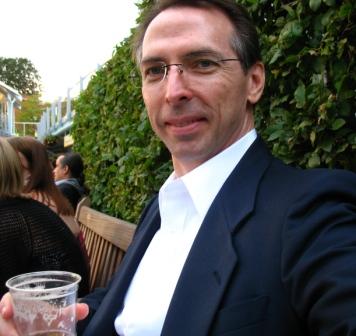 with three hours of races before the concert I had plenty of time for people-watching, so I walked about the grounds sporting my blue Premier Enclosure tag and looking smart along with everyone else. I'm of English descent, and I felt very much at home. Which is kind of unfortunate. I'm often perceived as standoffish, and so are the English, which makes for lousy interaction between strangers. I did a lot of smiling and took a few opportunities to initiate conversation, none of which got much in return. This wasn't unexpected. I've had the same experience before in Great Britain, and in Europe as well. Whether it's a cultural peculiarity, or some aspect of my personality, or both, I'm not sure. But I hardly interacted with anyone at all on the entire trip, and the racecourse was no exception.
About 8:30 fans started gathering before the stage, so I took a spot about four rows back. No seats; we would stand for the whole show. After nine hours' sitting overnight I could deal with that. Overcast skies and temperatures in the mid-70s made the evening perfect for an outdoor show.
minutes after the last race, drummer John Keeble climbed into his post and propped his Heineken next to him, followed onstage by lead vocalist Tony Hadley, brothers Gary and Martin Kemp (guitars and bass, respectively), and all-around talent Steve Norman, whose most famous work for Spandau Ballet is on saxophone but he plays just about anything well. They began the set list with their early hits.
To my mind there were two Spandau Ballets: the club version, which made poor use of Hadley's voice and never got across the Atlantic; and the later MTV sensation, in which the boys donned fancy suits and the single "True" conquered pop charts worldwide.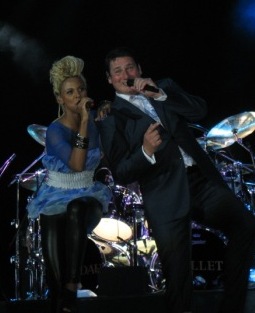 The club tunes "Instinction," "To Cut a Long Story Short," "Chant No. 1," and "The Freeze" belong to the early phase. The guys ripped through these rapid-fire, saving "Instinction" for a mid-program duet with tour vocalist Dawn Joseph, whose 20-something energy had her running rings around her 50ish sponsors.
I was surprised to hear five songs from the album Parade, which followed True in 1984 but lacked a hit single. The band peeled off "Highly Strung" and "Only When You Leave," then the very sexy "I'll Fly for You," which I don't know how author Gary Kemp can get through without smirking at all the girls in the crowd who'd like to be, um, "flown for." Kemp is also supposedly responsible for including "Round and Round," a delightful romantic memoir and minor hit, in every show. I would have been disappointed not to hear it.
for those who only knew the band from its mid-80s videos, Spandau Ballet was all about the handsome Tony Hadley. His soaring vocals made "True" and "Gold" enduring singles. In this concert, Hadley managed his part well until "Through the Barricades," a title-track anthem he delivered masterfully on the album but destroys in live performances with a vaguely Shatner-like narration in lieu of singing. I ignored him and focused on Gary Kemp, who wrote "Barricades" in the first place and really should take it back at this point.
I loved this single the instant I heard it way back in 1986, and have never tired of it. The song inspired me to buy a guitar and teach myself the melody. The lyrics refer to T.S. Eliot (among other poets), and some years back I came across a rare book of Eliot's epic poem "The Waste Land," which included a facsimile of the original manuscript and penciled-in notes from Ezra Pound. I mailed it to Kemp along with my best wishes; he responded with a heartfelt thank-you.
Fourteen years later I stood on the soft ground of Suffolk, U.K., watching Gary Kemp pick the notes out of his guitar so meticulously he had me welling up before the second verse. Around me stood thousands of other transfixed fans, and we sang the chorus together, note for note, word for word, as we'd heard it over and over in our heads for most of our lives. Finally, our vigil got its reward. And none of us wanted the song to end.
The band went on to deliver the crowd-pleasers "True" and "Gold" before taking a big, long bow; this was the last stop on the tour. They promised to be back, and as I searched for my car in the grassy field next to the horse track I passed a carload of fans who'd propped open their hatchback and sat drinking wine while a CD from the tour played out loud. Spandau Ballet will have no problem filling stadiums again if they return as promised.
i drove back into town to Byerley House, a delightful bed-and-breakfast, with my hearing intact thanks to the wax I'd shoved into my ears before the show. Despite being awake for most of the past 24 hours I could not immediately sleep. I chatted with a few understanding Facebook friends, who tolerated my babbling about the program and wished me a good night.
I got four hours of sleep, rising at 5 a.m. having agreed the previous afternoon to breakfast at 8. With nothing to do until then I drove to the Newmarket town center for some photographs, then out to the horse country for more.
Byerley House deserves a little more praise here. "Breakfast included" has gotten a bad name in the States because now that everyone offers it, it's become a lowest-bidder commodity. Read that: cheap carbs.
So, the cooked-to-order eggs, ham, sausage, and potato I was handed at table reminded me of the old British custom of leaving a small amount of food on your plate so your host wouldn't worry you'd been underserved. I blew that off and wolfed every speck, then moved on to the cold cereal and more fruit than I deserved to choose from. The French-press coffee left me feeling as if I were among the landed gentry, or something royal. I checked out regretfully, ready to stay a while and send for my family.
At least
this time
I didn't
start crying
at Customs
Two hours later I lined up at Heathrow for a flight home I barely remember. Westbound trans-oceanic legs usually mean arriving the same day as departure, but the day ends six hours later than expected. Sleep almost never happens for me on such flights, despite my packing a neck pillow and blindfold. What I really needed was elastic wrap around my head to keep my mouth from falling open; dry gums are their own alarm clock. Also, American should tint their windows.
On arrival this time I didn't start crying at Customs. Family awaited me outside, and I've rarely missed them so much.
i may return to britain someday, but for now I'll be content with my Spandau Ballet CDs and memories of a cool summer evening spent literally rubbing shoulders with my people, my fellow fans. Should the band ever grace the States, I will be there.
I know that much is true.
Here's a pan of the finish line from the Premier Enclosure.
A fish 'n' chips in Newmarket where I dined before the concert. In foreign places I like going where the regular people go.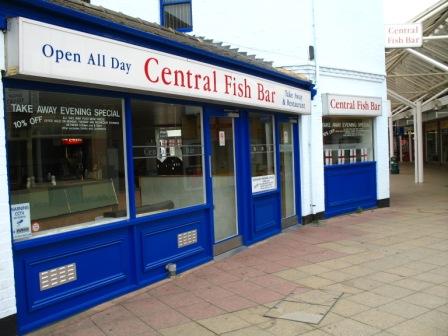 Architecture in Newmarket.
Amber waves of grain in the incubator of representative democracy.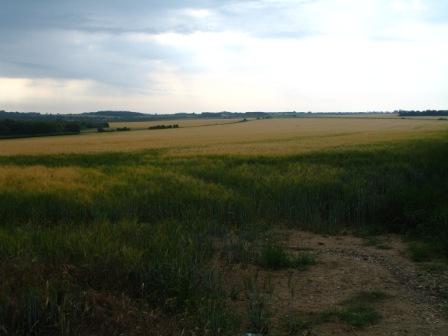 Posted by: Michael Rittenhouse at 08:07 PM | Comments (1) | Add Comment
Post contains 2458 words, total size 20 kb.
Posted by: Sandra at March 13, 2012 05:06 PM (pLKee)
Comments are disabled. Post is locked.
23kb generated in CPU 0.0123, elapsed 0.0361 seconds.
23 queries taking 0.0279 seconds, 18 records returned.
Powered by Minx 1.1.6c-pink.