August 28, 2009
Wreckenhouse
We finally got the rain we've needed. All at once. And I take full credit.
Because one week prior, in another of my regular rounds of cost-cutting, I looked at the comprehensive insurance I carry on both our cars. One of them is 15 years old, the other 12. It makes little sense to have full coverage on vehicles that old, as neither one is likely to survive a crippling blow for anything less than total value. So I'd get a check for maybe $1,500 or so, after years of shelling out for full-price insurance. So what was the point? I canceled those parts of the policies online.
anyway, we got rain, all right. A deluge. Every drop that hadn't fallen over the past 12 weeks came together in a two-hour flying tsunami, propelled by paint-stripping winds and thunder that shook the rafters. Here's a slightly mad Michael, outside in it for reasons that will be apparent soon enough.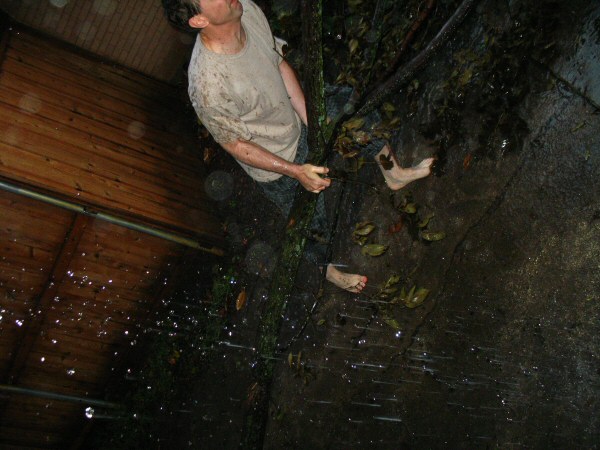 The insurance? Yes, that's coming back to the narrative in a moment.
Little Roo has a peculiar grasp of his own abilities. He'll lose all recollection of how to walk if it's in a direction away from where he really wants to go. But if Squeeky and I speak in excited voices about something big outside, he'll scurry around the house for his raincoat and umbrella and don his galoshes by himself if it means the chance to follow Daddy outside. Even in a thunderstorm.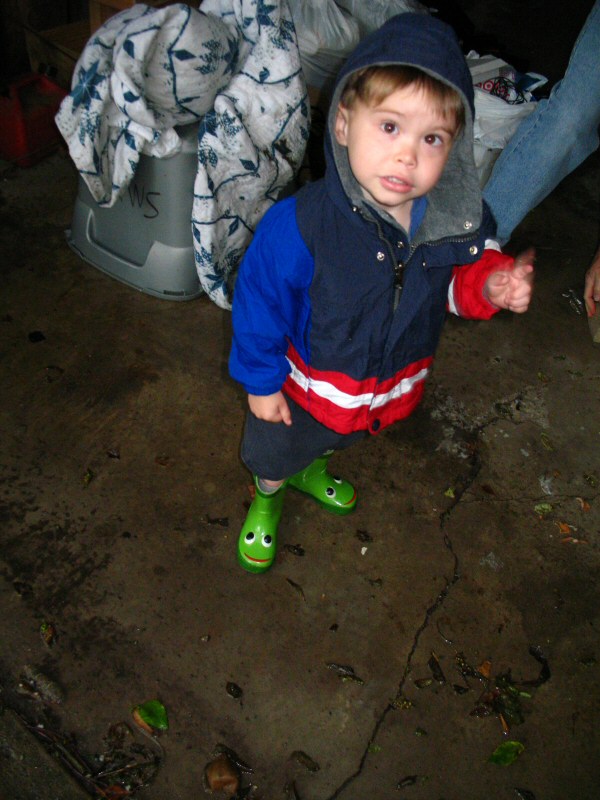 That night, I'd left my car outside the garage, having displaced it with preparations for a money-raising garage sale the next day.
Anyway, yeah, here's the result.
One ginormous piece of elm tree came a-loose directly above the Taurus, turning a sheet of thermal-tinted glass into about 50,000 silicon crystals.
I never heard it happen. I just glanced outside to see if I'd closed the garage, and noticed the backyard's greenery seemed a bit thicker than usual. Then I yelled holy smokes there's a tree in my car and ran out to grab whatever tarps I could find to keep the rain out. Managed to round up a sheet of painter's plastic (worthless in the wind) and a child's wading pool (surprisingly effective), then ducked back inside before the wind, which hadn't let up, threatened to drop another log on me. At least for that I was still insured.
Next morning, a fellow parishioner referred me to an auto-glass service. For $380 they sent a guy out to make everything right (which is a hell of a bargain no matter how you look at it), but he warned that I'd be finding fragments in and around the car for months. There was just no way to get every bit out of every crevice.
The next afternoon, I set about sawing up the fallen branch and dragging it out to the curb. Naturally, Little Roo wanted to be part of that, and Squinx had to be included. I offered each of them a penny for every bit of glass they found on the driveway. The little eagles ended up draining me for nearly a dollar.
i rationalized the overall cost by adding up the insurance savings minus the deductible and the price of the window, and figured I'd break even by Christmas.
As for the rain? You're welcome.
Posted by: Michael Rittenhouse at 09:12 PM | No Comments | Add Comment
Post contains 552 words, total size 4 kb.
Comments are disabled. Post is locked.
6kb generated in CPU 0.0054, elapsed 0.0172 seconds.
21 queries taking 0.0136 seconds, 16 records returned.
Powered by Minx 1.1.6c-pink.