May 04, 2008
Honeymoon, Part I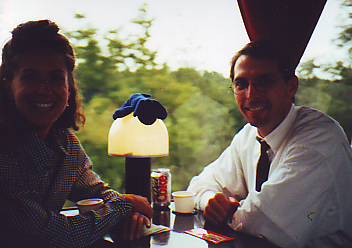 Our honeymoon didn't take place as scheduled. Our planned destination, Kenya, held national elections the same month we were married. Kenyans have their own idea of "negative campaigning," and, Africans being more careless with machine guns than I'd like—especially around foreigners—we chose to stall our official visit by about eight months.
Which put it one week after the embassy bombings.
It may be needless to say that for most of that year, in Kenya and Tanzania, tourism was a buyer's market. We figured the violence was over since Al Qaeda had made its point, so we went ahead. This put us in Nairobi a few days before a week-long walking safari.
We chose Lufthansa for its short connecting time. When the DFW ticket agent heard we were on our honeymoon, he bumped us to business class and we got some semblance of sleep on the way to Frankfurt. We left Dallas in the afternoon, arrived in Germany the next morning, then flew most of that day over the Mediterranean and Sahara, arriving about 10 p.m. local time. The near-total loss of a calendar day proved to be as disorienting as the transit from the world's most advanced nation to one of the world's most backward.
for those of you who've never visited a third world capital, let me enlighten you to the most problematic inconvenience among many: You are not allowed to carry your own gun. The criminals, however, can pack all they want. Since the police are mostly criminals, this puts the foreigner in an awkward place. You want to enjoy the scene, smile, take pictures, meet new people. This behavior makes you a mark.
Immediately after customs cleared
us with a
cursory glance, we hit
the Third World
Wall of Solicitation
In preparation, I asked
Sanders
, the former cop, to brief me on ways to escape a bad situation where I would have no actual weapons at my disposal. He showed me a few techniques for turning a double-A-cell flashlight into an source of serious pain, which I memorized.
Of course, as anyone will tell you, the best defense is not to get into defensive situations. Upon landing in Nairobi, I promptly walked us right into one.
Traveling mostly between the major commercial centers of North America and Europe, Squeeky and I are accustomed to spotless airports staffed by courteous employees, and, and the least, taxi stands where someone with a badge will be keeping order. This is unheard-of at Jomo Kenyatta Int'l Airport and Bazaar.
Immediately after customs cleared us with a cursory glance, we hit the Third World Wall of Solicitation, an arrival hall packed with hectoring cabbies, tour guides, hotel reps, and a few sloppily dressed airport officials wielding absolutely no control over any of them. The hawkers go after Caucasians the hardest, assuming we're clueless, and they're right.
I had anticipated this and, before leaving the States, had quizzed a friend who'd been to Kenya recently. He said to walk straight to the cab stand and take the first car in line, expecting to pay $30 to get downtown. This was more than the locals pay, but there was no way around it.
However, I couldn't even see the cab stand through the wall of waving, yammering hucksters, and I wasn't about to wade into the middle of them with my carryons on one arm and my wife on the other.
As our driver sat
down, I leaned
forward so he could
feel me breathing
on his neck
Instead, I took us sideways toward the rental-car and hotel counters, where we attempted to confer in private over our next move. A circle of solicitors followed us and would not yield any space, grinning spookily and interjecting every few seconds to proffer a hotel or taxi. I took to glaring silently at them, hoping my sullenness and coat-and-tie would suggest I was among the many U.S. law-enforcement officers who'd arrived recently to investigate the bombing.
It seemed to work, and as they gradually lost interest, I spotted a young man in a red greatcoat with a name tag bearing the Nairobi Hilton logo. When I asked him for suggestions, he beckoned to another fellow across the room who he said would drive us downtown for $20. I thanked them both but, still on guard, would not let go of my bag.
As we stepped out of the airport's noise, I discovered another novel feature of Third World public facilities: Parking-lot lighting isn't mandatory. Our "driver" led us through row after row of haphazardly parked cars, and the darkness grew thicker, triggering an adrenaline flow within me I can best describe as torrential. As we got farther from the terminal, I began to doubt whether the man I'd spoken with back there was actually an employee of the Hilton, or that it would even matter once we were robbed and unconscious. I gripped my little flashlight and mentally rehearsed Sanders' instructions.
I felt slight relief when our driver opened the door to his Nissan Sentra and gestured politely. We took our seats in the back and I positioned myself directly behind him. As he sat down, I leaned forward so he could feel me breathing on his neck. No move of his would escape my notice, for whatever that was worth.
The roads leading from Third World airports also aren't lit, so once we left the property, all we could see was night broken occasionally by the lights of passing cars. Every vehicle sold in Kenya has a little chime that rings when the driver exceeds the national speed limit of 50 mph, and everyone ignores the sound. I used it as my red-alert: Anytime our driver slowed down—as in, to pull over for prepositioned thugs to whack us—I leaned a little closer to him. Whether I deterred him, or whether he actually had any plans to set us up, I'll never know, because after about 20 minutes he found the Terminal Hotel and let us out.
this place had been suggested to us by a friend whose adventuresome tendencies I envy but may never fully share. He admitted that for $20 a night we couldn't expect much, but we'd get a clean bed and some privacy.
This particular night wouldn't be so simple. The clerk, sitting behind a worn countertop with a cracked-plaster wall for a backdrop, said he had only one room left and it would have to be vacated by 8 a.m. He offered to escort us to another hotel, as it wasn't safe to walk Nairobi's streets at night. I figured we'd already eluded one ambush, so I insisted on his last room even if it meant checking out before breakfast. He shrugged and handed us the keys to a door four flights up.
By the time we reached our floor, cracked-plaster walls and peeling paint no longer registered on our sensibilities. We just wanted a bed and a door that locked. We found those, with a bonus: a mosquito net suspended from the ceiling.
Squeeky seemed nonplussed by the events of our arrival. My adrenal glands, however, had become raisins. We brushed our teeth, lay down on the boat-shaped mattress, and shut our eyes.
nairobi is equatorial and mild, on a high inland plateau. Most times of the year, and most times of the day or night, there is no need for shelter from the weather.
From outside, several storeys down, came the sounds of an outdoor party. Maybe a half-dozen to a dozen people, possibly drinking, definitely laughing. A little music, too, a style I didn't recognize.
In any other hotel room I've ever stayed in, that would've been the impetus for my sitting bolt upright and phoning security in high dudgeon, demanding an end to the festivities keeping me awake. But something caused me to listen for a moment.
I have heard the sounds of many parties. From this one the laughter had a peculiar warmth. These people were laughing with, not at, one another. I couldn't understand their words, but their affection for one another carried all the way up to our room.
We fell asleep to the sound of foreign friends in a foreign land.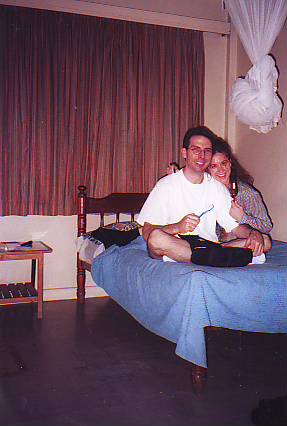 Do everything you can to avoid the noise and the business of men. Keep as far away as you can from the places where they gather to cheat and insult one another, to exploit one another, to laugh at one another, or to mock one another with their false gestures of friendship.
Thomas Merton, New Seeds of Contemplation
Posted by: Michael Rittenhouse at 05:22 PM | Comments (1) | Add Comment
Post contains 1432 words, total size 10 kb.
1
You should have stayed at the FAIRVIEW Mike!
Posted by: astonished at May 10, 2008 01:39 AM (Juspv)
Comments are disabled. Post is locked.
12kb generated in CPU 0.02, elapsed 0.0414 seconds.
23 queries taking 0.0234 seconds, 18 records returned.
Powered by Minx 1.1.6c-pink.