April 06, 2009
Bellaire: Biggest City in Houston
Bellaire, Texas, seemed to exist only as long as Houston allowed it.
Boomtown Houston always seemed to be pawing and snorting at the border. Straddling two major east-west commuter routes, Bellaire struggled to contain the psychotic rush-hour traffic that filled up Bissonett St. and Bellaire Blvd. and eventually spilled onto residential streets.
Our city fathers fought back with barricades for a while, but eventually widened the arteries just to get the craziness over each day with fewer headaches. Was it our fault all these people lived so far from their workplace? It seemed to be, and if so many of us locals didn't also make our livelihood in the big city, we might have just walled our little town off.
Meanwhile, Houston struggled to keep up with itself. At the peak of the 1970s oil boom, 1,000 new families a month poured into Harris County. The roads to its burgeoning western suburbs were mostly two-lane blacktops flanked by ditches—satisfactory when all they carried was power-line crews and dairy trucks. But once commuters overran them, they crumbled under the stress and cost a fortune to upgrade—utility poles had to be moved and drainage ditches reconstructed into storm sewers before more lanes could be laid.
By contrast, Bellaire never changed unless it wanted to, and growth was out of the question because all its land had been developed by the 1960s.
to people unfamiliar with it, the name Bellaire sounds more upscale than bucolic. From its founding, however, Bellaire developed as a solidly middle-class community.
A close-in enclave that always seemed about 10 years behind the times, even the pastoral names on Bellaire's signature red street signs—Laurel, Mimosa, Birch, Oleander—suggested the hush of virgin land.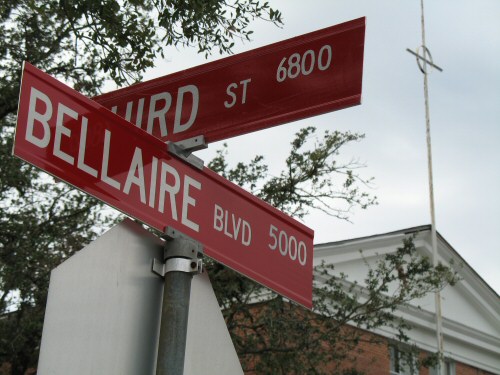 On the grid, Bellaire fit in with Houston's block-numbering sequence, but commissioned its own police, collected its own trash, and doused fires with its own independent source of groundwater. In the '70s there was a brief effort to form a separate school district, but public opinion saw that for what it was: a desegregation dodge.
The late '60s had been a harrowing time for white homeowners, who comprised virtually all of Bellaire. Once the Fair Housing Act went through, realtors discovered they could sell one house to a black family in the middle of a white neighborhood, and suddenly all the surrounding homeowners needed a realtor, too. Prices fell while sales soared. The losers were those residents who didn't or couldn't bail out right then, whose resale values quickly fell beneath their mortgages. Far from alleviating racism, housing desegregation hit the pocketbook, and many suburbanites nursed a simmering resentment over a loss they'd had no control over.
Somehow this all just rolled past Bellaire. If a black family lived there in the '70s, I never knew it. In elementary, there was one black apartment kid, and on occasion the county children's home, Burnet Bayland, sent one or two our way. But none of them lived in Bellaire.
our municipal center filled a whole square block with a baseball field, police station, City Hall, gymnasium, and pool, with lush St. Augustine turf filling in the crevices. Over by the water tanks, a plaque marked the memory of William Stevens, one of the town's two young men who went to Vietnam and didn't come back. Nearby, an iron, push-it-yourself merry-go-round got so hot in the summer sun that no one could touch it after 11 a.m.
Every boy I knew played baseball. The high school's team was an annual force within the state, a springboard to UT-Austin, producing Jose Cruz, Jr., Chris Young, and Chuck Knoblauch.
At our city ball field, though, nobody felt like a big deal. Our parents watched us play, perched on plank-and-angle-iron grandstands, surrounded by the smell of popcorn and sidestream smoke. If you were at least 12 years old, and not known for clowning, the league manager might pick you to announce the batters on the PA from a booth over the concession stand.
No schoolboy has ever
been born who could
do anything other than stand
and stare when a
fire truck howled past
If not, you could still earn yourself a free soda by returning a foul ball to the umpire, provided you got to it before Tony, the scoutmaster's son, who spent every weeknight shagging fouls and nearly got himself killed by passing cars more times than anyone could count. You could also collect enough discarded cups, napkins, cigarette butts, and pop-tops to fill a gallon-bucket, then trade that for a soda at the concession stand. The trick was to put uncrumpled cups upside-down at the bottom of the bucket, to fill space. One old guy who worked the stand would catch that, though. You tried to avoid giving your bucket to him, because he'd empty it, spot the filler, and tell you to start over.
The games began at 6:30 and 8:00. We had lights and an electric scoreboard, with concrete dugouts that flooded every spring. Someone had added a wooden fence around the outfield, but left the rusty, four-foot chain-link outside of it, and you could climb up onto the top pole and peep at the game until an umpire waved you down.
On the field, we chattered at batters; from the grandstands our parents cheered our plays; while outside the chain-link the little kids played mockup games, batting a wadded-up paper cup with their bare hands.
But everything stopped when a call came in to the fire station across the street. The umpire had to pause the game: No schoolboy has ever been born who could do anything other than stand and stare when a fire truck howled past.
twice, as a texas leaguer, i won the Best Sportsman award, though I'm still not sure what for. Coaches usually put me near the top of the lineup because I never swung at anything and the pitchers weren't accurate enough to throw three strikes to one batter.
I played right field because I was afraid of fast-moving balls. In Little League, once I'd gained some confidence, I agitated for a chance at third base. In my first outing there I suffered a fielding meltdown over several innings that cost us the game. I returned to the outfield, which was a nice place to watch those who could, play.
Local businesses sponsored our teams. No matter who you played for, you wanted Charlie's Hi-Lo Auto Supply to buy your uniforms, because everybody knew and respected them, and their team always seemed to fare better. Ditto for Wagner Hardware and First State Bank of Bellaire, names everyone trusted. One year, we had a newcomer, The Blue Note. Only the adults understood why the word "Lounge" had been left off. The bigger mystery was, Who had approached the bar's owner for a sponsorship?
As the sun went down and the cicadas began their evening drone, our unofficial game clock, First State Bank's towering "1" sign, turned slowly over the distant trees, broadcasting the time and temperature. All summer the mercury never fell below 70 and neither did the humidity.
And if your parents allowed, you could spend all evening at the ball park, then bike home all by yourself in the tall shadows of the cottonwoods and sycamores shrouding every street.
bellaire was just a little too big for us all to know each other, but small enough that anonymity wasn't an option.
If we ever had an accident at home (as I did in falling head-first out of a tree one Saturday afternoon), we might find ourselves revived under an oxygen mask held by a schoolmate's father, who was also one of Bellaire's paramedics.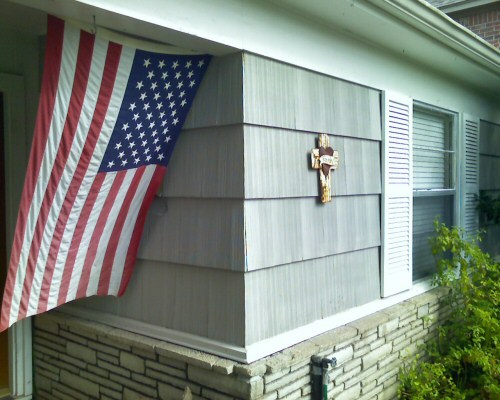 If we got into trouble with the police, as one of my friends did as a teen, we might wind up cowering across the desk from a sergeant whose son had played basketball on our team. (His conversation with our father would occur in private—possibly the most dreadful 15-minute wait of one's life.)
But as youngsters, we learned not to fear the police. Officer Holloway directed traffic at First State Bank, which in the days before Direct Deposit boasted more than a dozen drive-through tellers and little guidance on how to approach them. Officer Holloway, in his aviator sunglasses and rugged farmer's tan, always found time to proffer a paper bag full of candy and bubble gum to the little ones whose patience had run out during the interminable wait for an open teller.
in a way, there were actually two bellaires. By the early 1960s, IH-610 Loop had cut an eight-lane gash through town. Eastward lay the lesser Bellaire, with smaller houses and, seemingly, smaller, skinnier people, like North Koreans. Their stretch of Bellaire Blvd. had just a narrow strip of parched grass in the median, and they were bordered by two railroad tracks and zoned for Pershing Junior High, which graduating elementary schoolers would run away from home to avoid. (Pershing had vicious upperclassmen who forced you to smoke, and there were fights every day after school. We knew because someone's brother told us.)
The other Bellaire, west of 610 Loop, boasted big front yards, wide avenues, lots of big grocery stores, and the town's only post office. Plantation-style homes lined our stretch of Bellaire Blvd., with fountains and a walking trail winding down its broad esplanade. To new arrivals this must have looked like a trip back to the Roaring Twenties.
After that big opening act, though, Bellaire was all bathos. For most of my youth, I never thought of my neighbors as anything other than regular people.
Bellaire knew what
it wanted
to be, and
densely populated
wasn't it
I once saw a map of Harris County that was shaded according to household income, and right there in the relatively affluent light-gray southwest Houston sat a dark-gray block-letter J: that was Bellaire. That's when I first realized we were different from our neighbors just across the city line.
If other kids hadn't gotten this message, it would dawn on them the day they walked into Bellaire High School. Situated on the southern edge of our town and—as were all our schools—part of H.I.S.D., Bellaire High drew students from its namesake city but also from Houston's Meyerland area, where all the houses had two or three bathrooms and some even had backyard swimming pools.
Looking back, however, I can see that Bellaire had its own grades of relative affluence. Most of the clapboard houses along the curbless, ditch-lined streets north of Jessamine St. bore gravel driveways and flat roofs—low-rent trademarks, as I came to know them. Meanwhile, along oak-shaded Pine and Braeburn, there were two-storey homes with pillars out front and two-car garages tucked behind.
Most of Bellaire's homeowners, though, had three bedrooms, one bath, and one living area. Claustrophobia drove many of our fathers to tack on a den or bedroom, sometimes both.
the first sign of change, in the early 1970s, was a townhouse project that popped up on the corner of Evergreen and 610 Loop. These looked strange to me, with zero lot-lines and little indication of where one house ended and another began. I studied them every time we passed. It was Bellaire's only multi-family dwelling—save for a couple of legacy apartment blocks along Bissonnett—and I never saw the owners; they drove around back through an alley and shut their garage doors behind them. Nobody did any yard work or played outside, because there wasn't any room.
Thereafter, no more multifamily permits were issued. Bellaire knew what it wanted to be, and densely populated wasn't it.
Meanwhile, Houston's overgrowth took an enormous face-plant in the 1985 oil bust. Whole subdivisions emptied, taken over by shell-shocked lenders.
Capitalism abhors a vacuum, of course, and within a few years new industries moved in to fill the void. And at some point, the idea of living close to work began to take root among the new arrivals.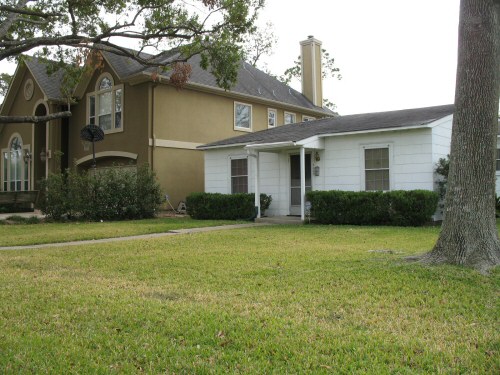 By the late 1980s, Bellaire's secret was out: Residents could commute downtown in about 10 minutes. Developers started bulldozing the city's 3-1 postwar bungalows, replacing them with multistorey brick-façade castles that pressed right up against the property lines. Homeowners who'd bought into Bellaire in the late 1960s for less than $25,000 could recoup their whole mortgage five- or six-fold. Of course, then they'd have to live somewhere else, because Bellaire had been priced well out of middle-class range.
The shaded map went monotone.
Houston had won.
See also Condit Elementary School.
Posted by: Michael Rittenhouse at 08:45 PM | Comments (1) | Add Comment
Post contains 2078 words, total size 14 kb.
Posted by: dawgmom at April 09, 2009 11:07 PM (fHGd+)
Comments are disabled. Post is locked.
17kb generated in CPU 0.0045, elapsed 0.0146 seconds.
23 queries taking 0.0115 seconds, 18 records returned.
Powered by Minx 1.1.6c-pink.