December 15, 2008
A Fir Piece
We slaughtered another pine tree for Jesus.
Poor thing was just minding its own business, pumping out prickles and oxygen and sponging up CO2, and perhaps wondering, for the dozenth straight year, how all its neighbors came to grow exactly 10 feet and 90 degrees from one another.
Then these five humans showed up, and the biggest one leaned over and started hacking at its trunk. Less than a minute later, the world turned sideways and the little humans cheered. It would be a long ride to Dallas atop a cold SUV.
We go to Lone Star Pines every year because the trees are live, pretty, and cheap, and it's only an hour away. I used to know the owner—still do, though he's now running a peach orchard just up the highway, which I discovered abruptly one summer when he handed me a bag of produce.
B.C. (before children), we would drive out in the convertible, which in Texas you can do after Thanksgiving. Then we started bringing Wolf Dog along, with his jingle-bell collar. The first time out, he met another family's German Shepherd, and the two of them tracked rabbits until they ran out of breath.
This year the Explorer reached full capacity, with wife, both kids, and a cousin in seats, with Wolf Dog at tail gunner. He likes the rural surrounds, no fence and no limit to the number of scents he can memorize. The horses, as usual, regarded him as a colt.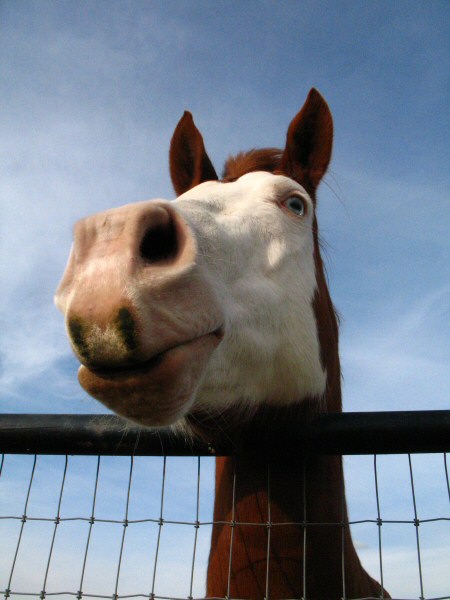 I don't know what breed these are, but they live next to the Christmas-tree lot. We bring apples because they seem to like them.
Lone Star's operation runs as smooth as a four-speed automatic. We climb aboard a hay wagon and ride out to wherever we think our tree might be waiting. (We usually disembark at the far end to visit the horses.) Then we wander back toward the sales house, sizing up our potential victims. Rittenhouse studies the trunks for straightness; Squinx thinks the smallest ones are cute; Squeeky cares that the needles aren't so dense that ornaments won't have anyplace to rest; and Little Roo heads for the nearest fire-ant mound.
The trick in selecting your own tree is getting the scale right. On a 50-acre lot, the trees look pretty small. That changes when you get home and realize yours will never fit through the door. Height matters, too. We figure that with eight-foot ceilings, the perfect tree is about my height.
Last year, Little Roo couldn't have been trusted not to pull an indoor tree over onto himself, so we intentionally bought the widest tree we could find and propped it up in the front yard.
This time, Squinx missed the point of our journey by selecting a tree within one minute. I had intended to make the hunt worth the hour's drive, but there was no swaying her, so I unrolled a plastic trash bag, lay down on the damp, sandy soil, and cut the stump loose.
A deep-toothed saw—lent me by the hay-wagon driver—made short work of a four-inch trunk. Squeeky toppled the tree away from me so we avoided any prickly burying of the lumberjack. Then the driver came by and took us all back to the processing barn, where they shake out loose needles and run the carcass through a netting dispenser that narrows the tree by half. Getting it into the house is easier that way. Getting it back out … you're on your own.
Six and a half bucks a foot, and it'll be green 'til New Year's. We let the kids decorate it.
And a Merry Christmas to you.
Posted by: Michael Rittenhouse at 08:01 PM | Comments (1) | Add Comment
Post contains 610 words, total size 4 kb.
1
Merry Christmas to the Rittenhouses. I remember as a kid my dad used to take us out to the pasture lands and we'd cut a cedar (juniper) tree for our Christmas tree. Cedar trees still smell like Christmas to me, but it looks like most of them have been overtaken by mesquite brush.
Posted by: RebeccaH at December 23, 2008 08:37 PM (JAQT9)
Comments are disabled. Post is locked.
7kb generated in CPU 0.0039, elapsed 0.0116 seconds.
23 queries taking 0.009 seconds, 18 records returned.
Powered by Minx 1.1.6c-pink.