March 16, 2008
Praise the Lord and Pass the Bombers
This one counts as a banner day at Rittenhouse.
First, I had the privilege of serving as subdeacon at Palm Sunday mass.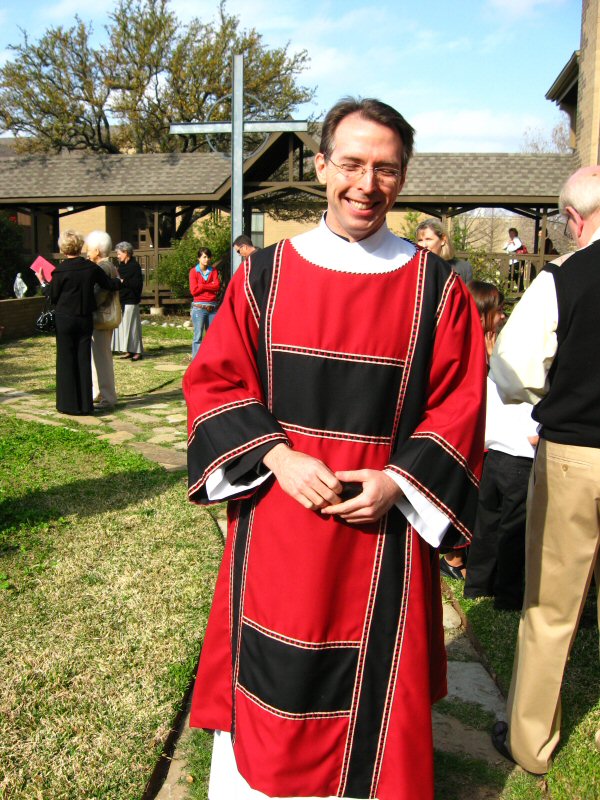 Yes, I think it's funny, too. Miraculously, I got through without any major blunders. Subdeaconing is actually simpler than it appears. Mostly what you do is stay out of other people's way. Which is important when they're carrying 10-foot-tall crucifixes or swinging a thurible full of red-hot coals.
later in the day, this being Wolf Dog's birthday month, we acceded to Squinx's insistence that we throw him a party. We've done this before—unwrapped a pound of raw hamburger and stuck Pup-peronis in it for candles—and Wolf Dog thinks it's all well and good but we need to get done with the singing and let him eat his "cake."
This year Squinx decided on a catfish for his birthday dinner. She's seen them swimming around the live tank at Fiesta and understands they're for food, not just show. And by five-year-old reasoning, since we never let Wolf Dog chase cats, why not let him have a catfish just once, for his birthday?
There are times when you realize there would be no good purpose served in denying a child's logic.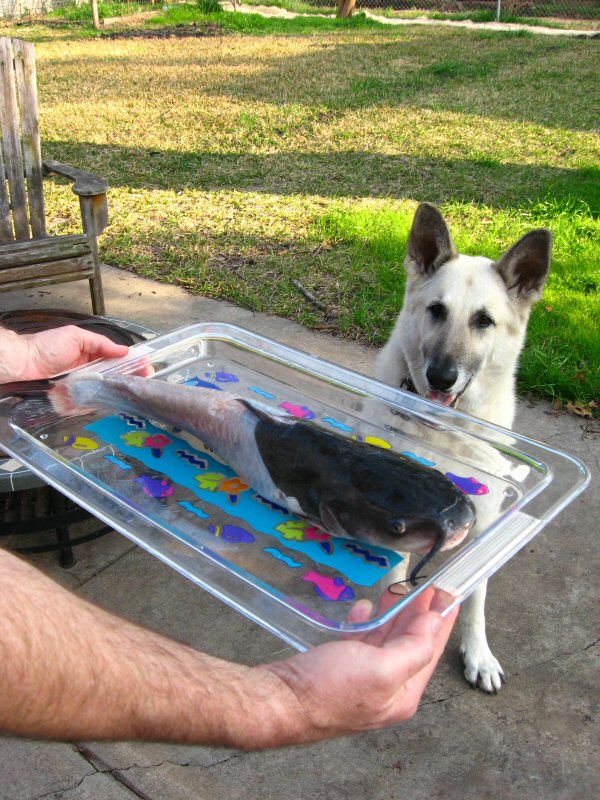 The helpful meat-counter people at Fiesta gave the fish its last rites in a kind of electric coffin, then gutted and skinned most of it. Squinx wanted the head left on; gotta admit there's a certain primality in watching one animal eat another, face-to-face.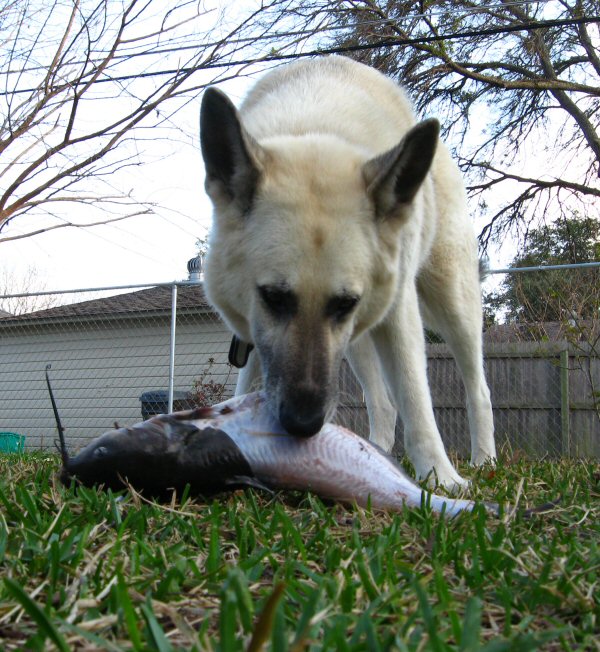 Wolf Dog is raw-fed every day, of course. He's lean and healthy and his teeth are as white as when we first took ownership of him 6½ years ago. He finished most of the creature and buried the head at an undisclosed location. I hope he forgets where, too.
Afterward, Little Roo decided he didn't like anything in the universe, so we took him out front where he could fuss with impunity. High clouds brought out the blue sky in Technicolor, along with the neighbors, and an impromptu party coalesced on the lawn.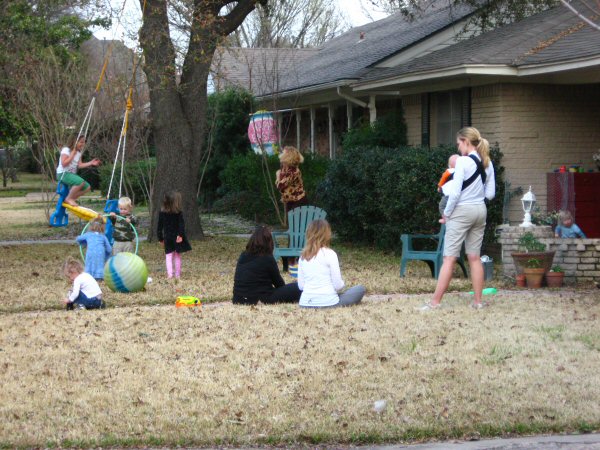 Hen party, that is. For about an hour I was the only grown male, but that just meant more beer for me.
I love few things more than having friends and neighbors over with no particular agenda other than to enjoy one another's company. (The trapeze thingy looks about to clobber the pink-tights-wearing Squinx on its way back to neutral, but she averted injury.) One of the ladies seated there is expecting her second baby in 20 weeks. The others each brought one or two with them. All in all, it was a wonderful day to be a young parent in Rittenhouse Estates.
Then enemy bombers appeared.
Actually, that's one of ours. The Frontiers of Flight Museum at Love Field is hosting a Doolittle Raiders reunion, and every couple of hours they send a few sorties over our house. At least, this time, they make it back to base.
I love to see and hear the beasts, now more than 60 years old, still hanging in the sky. I would not have felt that way as a resident of Tokyo or Berlin when these airplanes were new.
I'll sound like a little-old-lady greeting-card poet if I try to put a finishing touch on this. So I'll stop here and wish you a profound Holy Week.
Posted by: Michael Rittenhouse at 07:47 PM | No Comments | Add Comment
Post contains 560 words, total size 5 kb.
Comments are disabled. Post is locked.
7kb generated in CPU 0.0041, elapsed 0.0101 seconds.
21 queries taking 0.0074 seconds, 16 records returned.
Powered by Minx 1.1.6c-pink.