February 14, 2010
Unchange
I'm auctioning off some U.S. coins my father collected over the years—pre-1964 silver, nothing all that rare—and got down to the quarters and dimes when something gave me pause.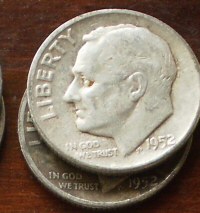 A 1952 dime, to be specific.
I pondered how that little Roosevelt had roamed the country at a time when 10 cents meant so much more. Perhaps, in its days going from pocket to pocket in America:
It clicked through any number of red Coca-Cola machines, settling in a metal box until some fellow named Jake in coveralls came to retrieve it.

A railway clerk used it to free a stuck typewriter key.

A banker fingered it as he waited to testify before a congressional subcommittee. Later, he bought a cup of coffee.

It served as a tip for a shoeshine boy in the lobby of a Cleveland office building.

And who could count the number of phone calls it paid for?
Men wore hats then. Pocketwatch chains were a sign of age, or seniority, or both. Suits were standard downtown, and in the country they marked you as a stranger, except on Sundays.
Civil Defense signs reminded us that we still had enemies.
When a guest in your home fished out his cigarettes, you got him an ashtray—even if you didn't smoke.
Nobody pumped his own gas.
at some point each of these coins wound up in my father's hand, where he noticed the date and decided to place it in a ceramic piggy bank he kept high in his closet. Every once in a while he'd get it down and we'd look through them together, sort them, arrange them by size and year. He had me read the little ones, though at the time I didn't understand why. I'd always have to ask who the figures were, and he'd tell me, and I'd forget. All I remembered was that Kennedy replaced someone on the half-dollar in 1964. All the others had more continuity.
Yes, I know, it's ridiculous to feel so much sentiment for a few dozen coins of the realm. Yet, as I sit in this house—which went up during the Eisenhower administration—and ponder the labor that made it possible, I realize coins like the ones on my desk served as another part of that very exchange. At some point those workers traded sweat for the quarters and dimes that ended up in their pockets. They're all dead now and and the house will someday fall down. But the currency remains, having outlasted what it was traded for.
There's more to these coins than symbols stamped in silver. I'm going to hold onto them for a while.
Posted by: Michael Rittenhouse at 05:04 PM | Comments (1) | Add Comment
Post contains 440 words, total size 3 kb.
1
I never knew "old coins" could be so beautiful! Lovely post! - Michelle
Posted by: SomeGirl at February 25, 2010 08:49 PM (LEXUA)
Comments are disabled. Post is locked.
5kb generated in CPU 0.0038, elapsed 0.0114 seconds.
23 queries taking 0.0087 seconds, 18 records returned.
Powered by Minx 1.1.6c-pink.