November 12, 2008
The Day Gas Broke $2.00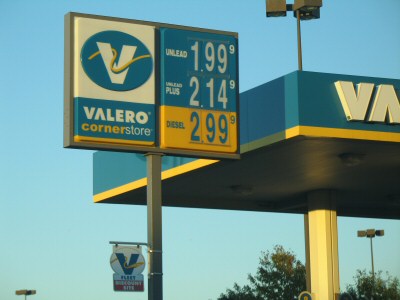 In the first gas-price run-up, way back in the 1970s, you couldn't blame yourself for the cost of fueling a 10-mpg car, because that's all there was.
Still, when four-cylinder imports started showing up, no one liked them. They were small. They sounded tinny. They felt flimsy, like aluminum lawn chairs, bound to tip over at any moment. But the worst part was, they had no "pick-up."
Pick-up is what we called torque, or an engine's turning force. Even at low RPM, standard-issue V-8s could launch a 4,000-lb. sedan from 0-60 in 12 seconds. On the highway, when you floored the throttle, a 400-cubic-inch V-8 lagged just long enough to kick down a gear before mashing you into the seatback. Never mind that the fuel line gushed like a firehose at that point. The full-throated moan of a four-barrel carburetor's secondaries had you feeling as if you could outrun just about anything.
By contrast, when your 1974 Toyota Corolla pulled onto an entrance ramp, you could hear insects laughing as they bounced off the windshield. Full throttle in a Datsun B210 felt the same as half-throttle, just noisier. Four-cylinder engines left you helpless and impotent, like Jimmy Carter when the mullahs glared him down.You wished you could run up a sail, dump ballast, or get out and push—anything to prevent the Buick Electras and Dodge Monacos from swerving around you.
When your Toyota pulled onto
an entrance ramp,
you could hear insects
laughing as they
bounced off the windshield
Automakers knew this, but would take years to direct their energies toward extracting more oomph from smaller engines. Turbos held promise for a while, but their inevitable lag and additional moving parts proved irritating, temperamental, and costly.
Multi-valve set-ups, fuel injection, and electronic ignition would eventually restore lost horsepower. Still, horsepower is the piranha to torque's Great White Shark: effective, just not as awesome. A V-8 will always make more torque than a four-cylinder.
Only when oil prices fell back down (toward the 1986 low of $10/barrel) would the return of V-8 power put the drive back into driving, where you felt as if you had a thoroughbred in your hands instead of a pack mule.
Posted by: Michael Rittenhouse at 09:08 PM | No Comments | Add Comment
Post contains 369 words, total size 3 kb.
Comments are disabled. Post is locked.
5kb generated in CPU 0.0, elapsed 0.0137 seconds.
21 queries taking 0.0098 seconds, 16 records returned.
Powered by Minx 1.1.6c-pink.